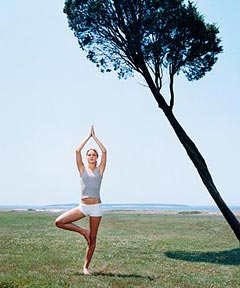 I'm the first to admit, I'm impatient. I need things done in a nano-second. Too bad my body isn't the same way. When it comes to working out or better yet, seeing the results of working out, I would love to be able to blink and voila, a perfectly long, lean and toned body stares back at me in the mirror. Nope, that's not the case. But the next best thing could possibly be a workout targeted to the type of wedding gown I'll be wearing.
Choose from one of these four dress styles to get your perfect workout:
1-
Open back
2-
Sweetheart neckline
3-
Arm-baring
(halter, strapless, spaghetti straps)
4-
Form-fitting or Sheath gown
Each workout is complete with a demo so you'll have great form to yield prefect results. Of course you'll have to push away that tiramisu and pomegrante martini. I know, I know..but no pain, no gain!!